Rising Stories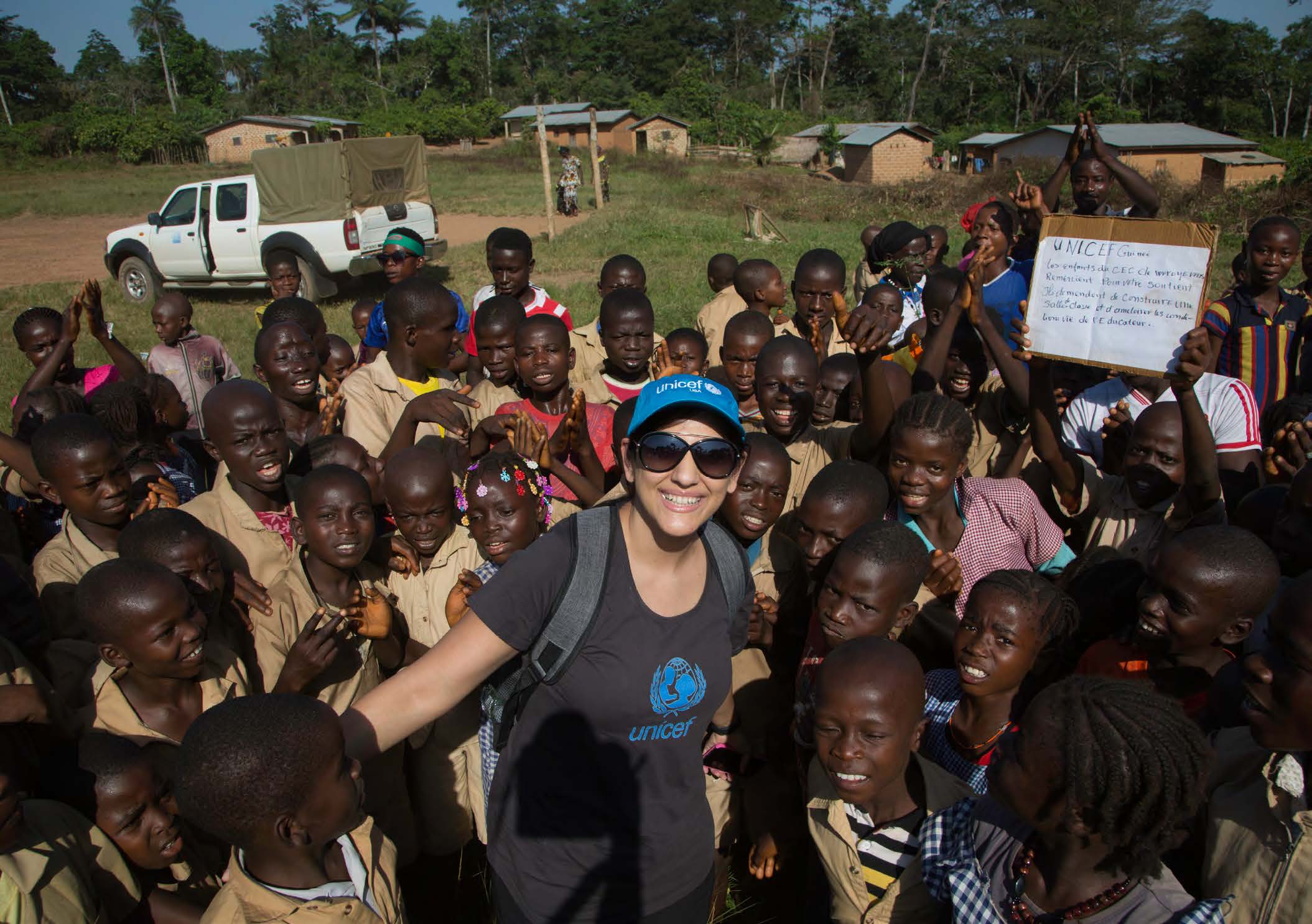 WFG Champion, Sippi Khurana, shares passion for the program with local publication, LCAHouston
An excerpt from Dr. Sippi Khurana's article in the Winter 2020 / Spring 2021 issue:
I will never forget the ocherous color that filled every village's landscape. The dust particles from Bauxite, a precious amorphous clay rock covered every inch of land. It stained the hands of every child grasping to touch mine. Our processional started as we exited our all-terrain UNICEF vehicles. The air was dry and dusty but filled with cheer. I looked up to see hundreds, if not thousands of villagers lined up to catch a glimpse of us. "Viva UNICEF, Viva UNICEF!", was chanted by every child. Drums were playing, songs being sung and a true celebration was taking place simply to rejoice the most basic of human needs: CLEAN WATER.
WFG Champion, Wendy Serrino, interviewed for Better Magazine
Wendy Serrino was recently interviewed by UNICEF USA's Chicago NextGen Chair, Iliana Alvarenga, on her recent field visit to Guinea and her long-standing commitment to helping children around the world. Her incredible passion for Water for Guinea has inspired Susan and Nick Noyes to match financial gifts to the project up to $10,000. Your gift can have double the impact! Please reach out to Missy Sirola at msirola@unicefusa.org for more information.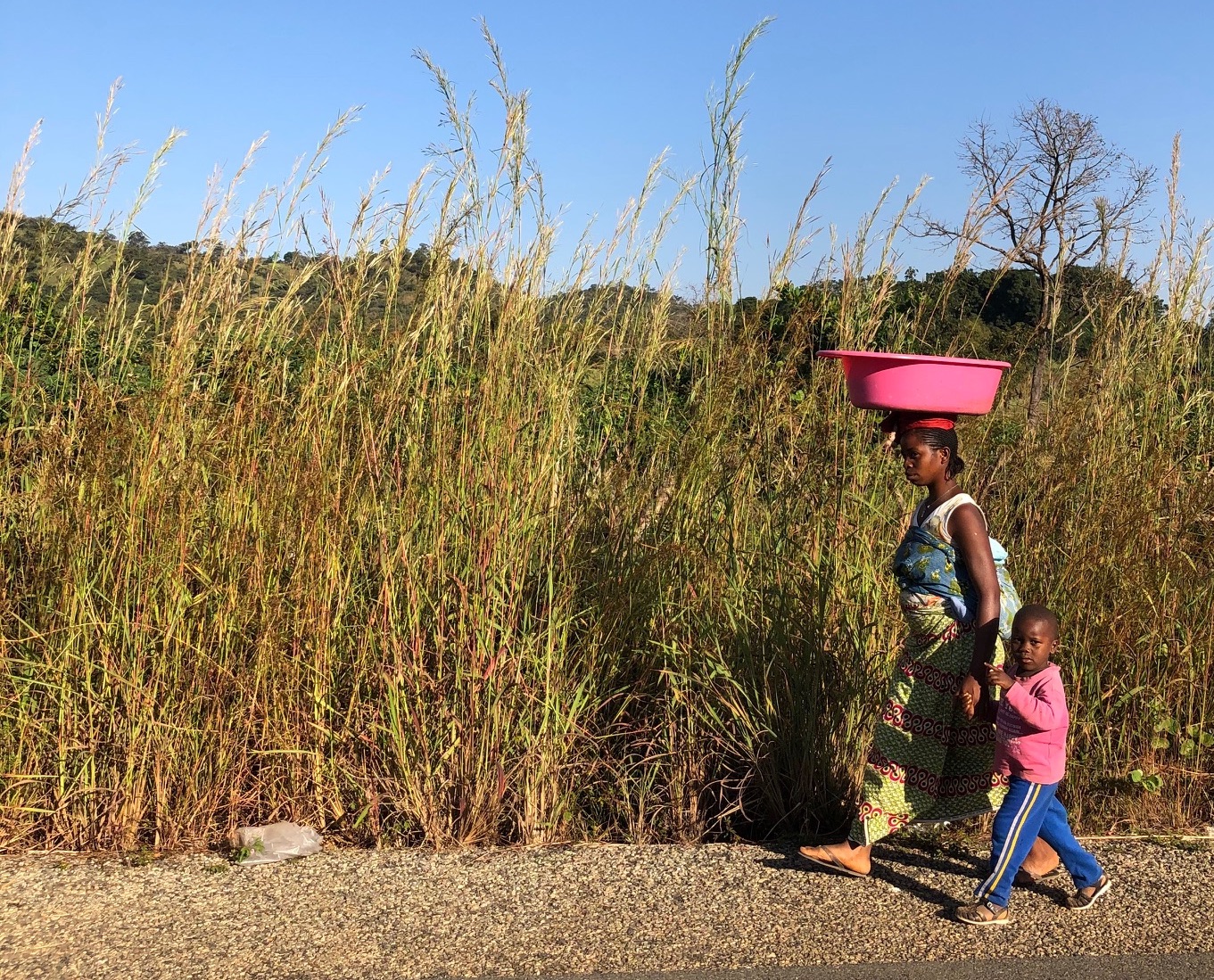 How is COVID-19 impacting Water for Guinea?
All around the world the pandemic is disrupting critical programming and affecting communities tremendously. Schools are closing, vaccination campaigns are suspended, and ongoing development projects are halted. This is true in Guinea as well.
Sadly, the coronavirus is spreading quickly across West Africa. To date, there are more than 1,000 recorded cases in Guinea alone, with one person testing positive in the rural region of Labe.
To prevent further transmission, UNICEF has postponed borehole drilling in Labe. Instead, we will drill all 40 boreholes in the N'Zerekore region, where there are no recorded cases of the virus. Additionally, we will postpone retrofitting existing boreholes for solar systems to late 2020 or 2021. We appreciate your understanding as we are all adapting the best we can, and doing what is necessary to keep our most vulnerable communities safe.
We aim to protect the health and well-being of all Guineans. Once it's safe to continue, we will resume all aspects of the Water for Guinea project as planned.
For more detailed information, read the pdf report.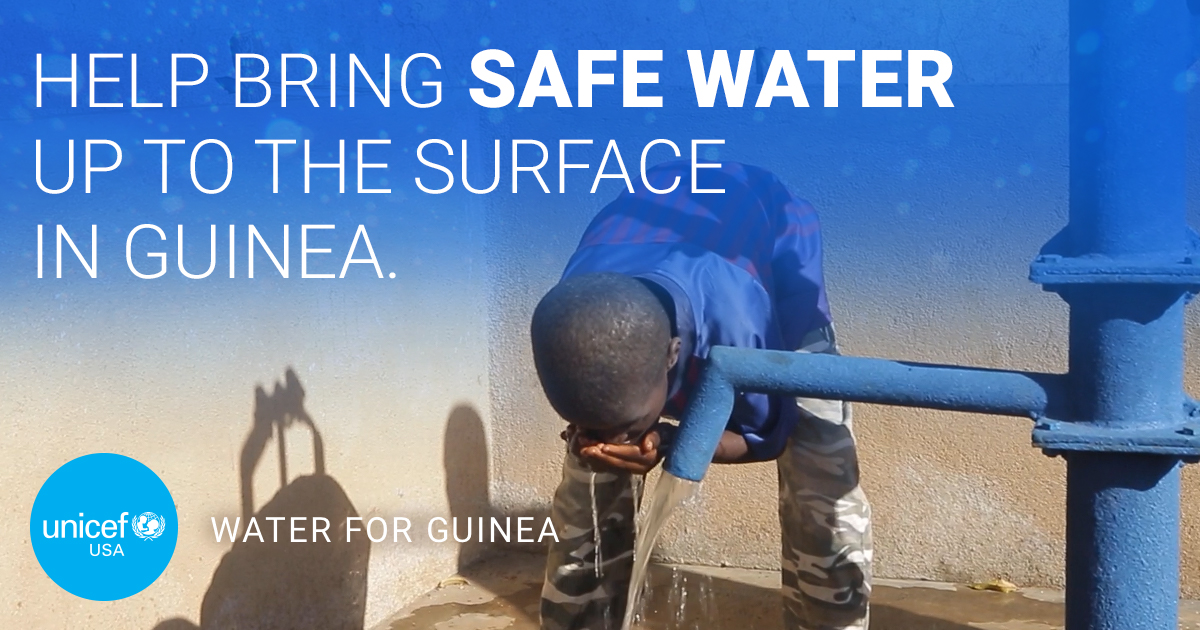 Share Water for Guinea!
Sharing Water for Guinea with your networks helps us build support—and bring safe water to more people who need it. Download our social kit to access a variety of sharable resources.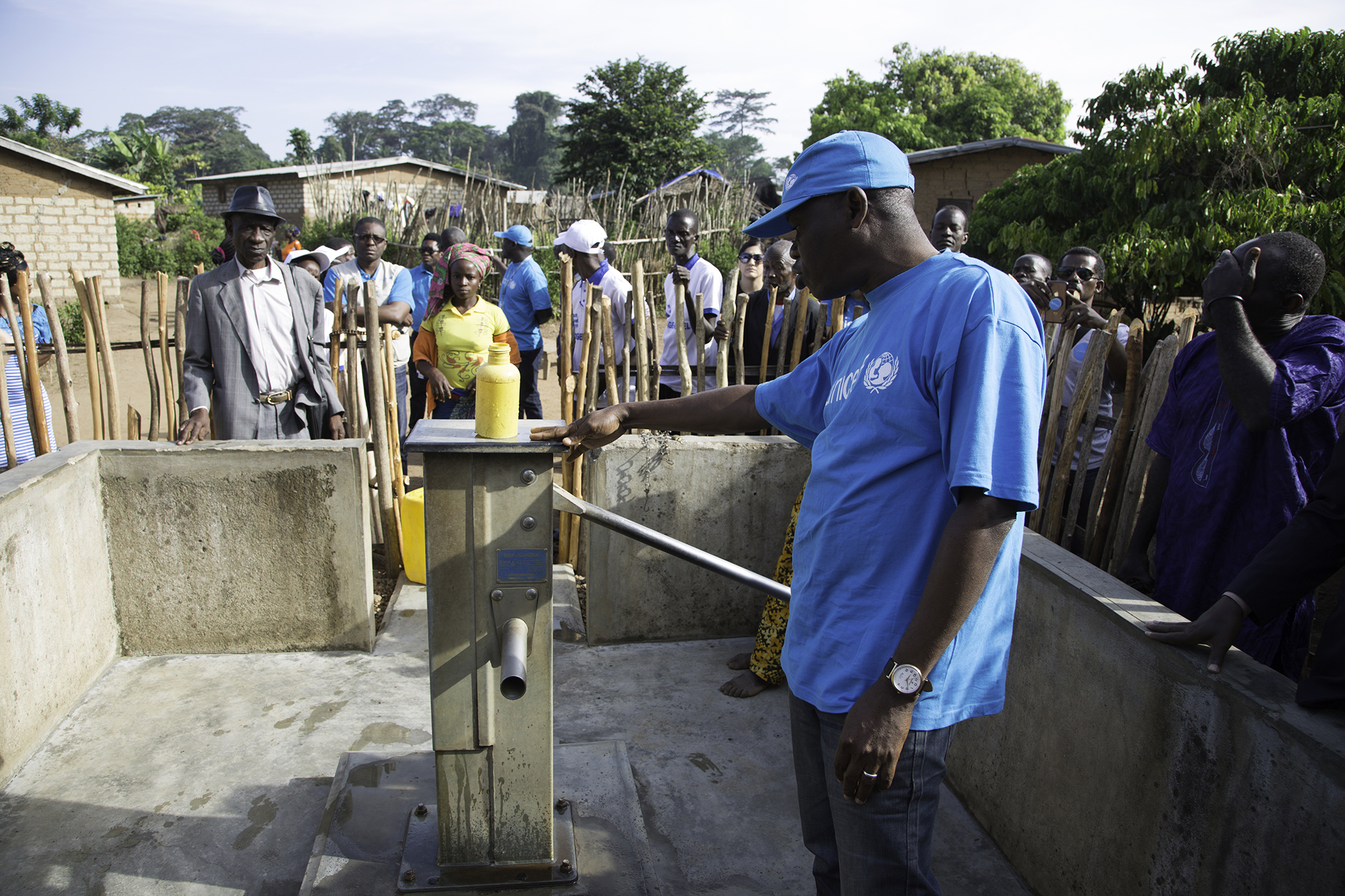 A source of water—and pride
In 2016, a rural community in Guinea was preparing to host a ceremony that would draw visitors from all over the region. They knew their local water source was unclean, so they tried to make their own well—but the water was still contaminated, and all the visitors got sick.
"It was a great shame for the village," the village chief said.
Today, with their new well built through Water for Guinea, the villagers no longer have to worry. In fact, it's changed their lives so much that they call their water point "the jewel of the village."
A health clinic transformed
Without a water source to keep health clinics clean, workers can't maintain basic hygiene and prevent the spread of disease and infection. This can have devastating effects while dressing a wound or delivering a baby. But once a water source is installed nearby (or in the clinic), the workers can easily wash their hands before a procedure and prevent germ transmission. This means the clinic is a safer place for everyone, and the community is healthier overall.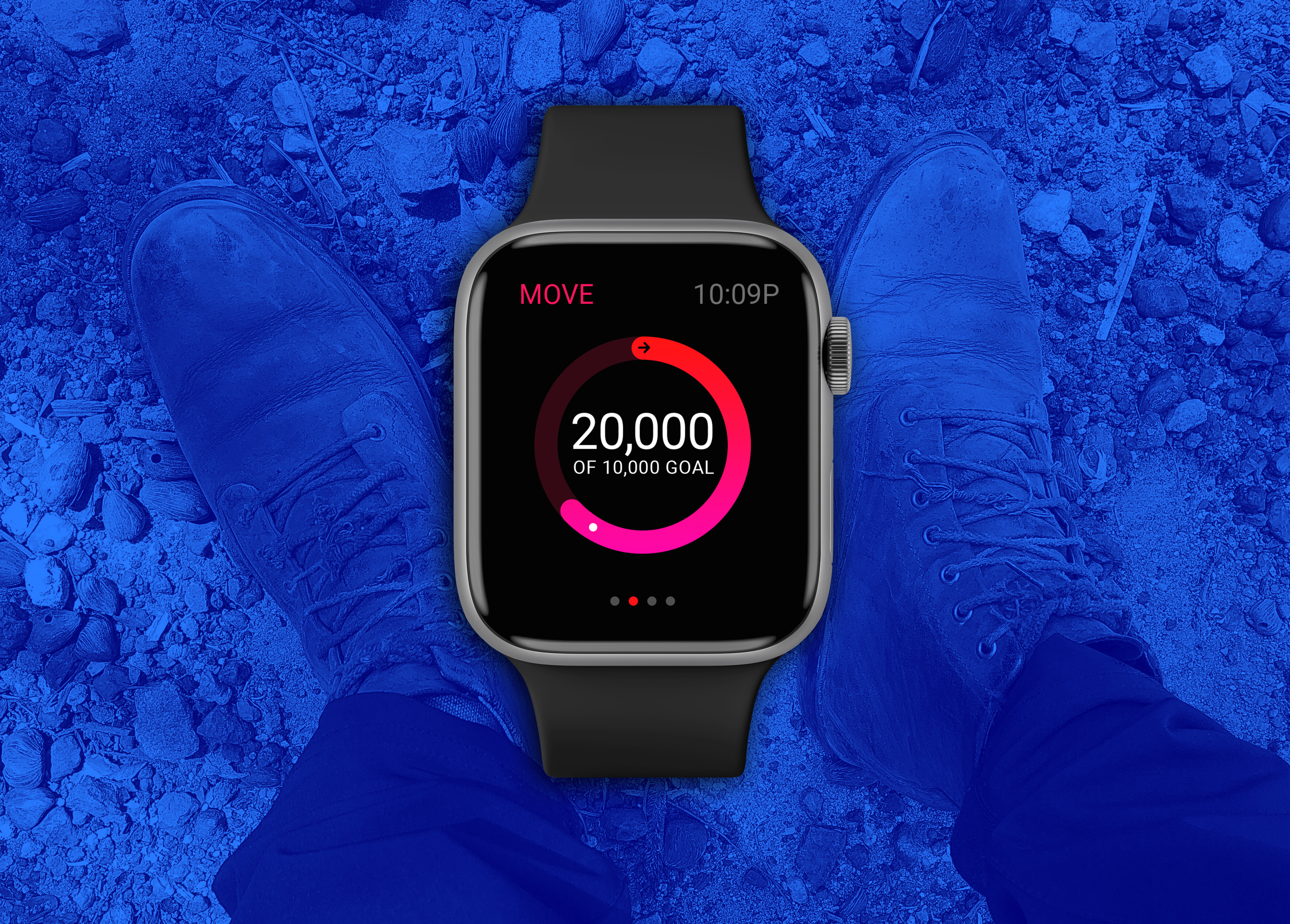 Clocking 20,000 steps from the car
When UNICEF USA's Rudra Melaram traveled to Guinea, he clocked thousands of steps without lifting a foot.
Most of the roads leading to the rural villages outside of Guinea's main cities are damaged, rutted and uneven. The ride is so bumpy that Rudy's fitness tracker counted the bumps as steps and staircases.
One day, he clocked 20,000 steps and 203 flights of stairs.
Water makes a great gift
For the past few special occasions he's been celebrating for friends and family, Water for Guinea partner Bob Ezrin has been giving "the gift of water" on his loved ones' behalf. That means he's been making $5,000 contributions to UNICEF's project—which buy an entire well and handpump for a community in rural Africa. His contributions have brought joy not just to his loved ones, but to thousands of Guineans, whose lives are changed forever.
Whether you give $50 or $5,000, you can do the same. UNICEF will even notify your gift's recipient that they are helping to bring clean, safe water to Guinea.
Thank you for helping us make a difference.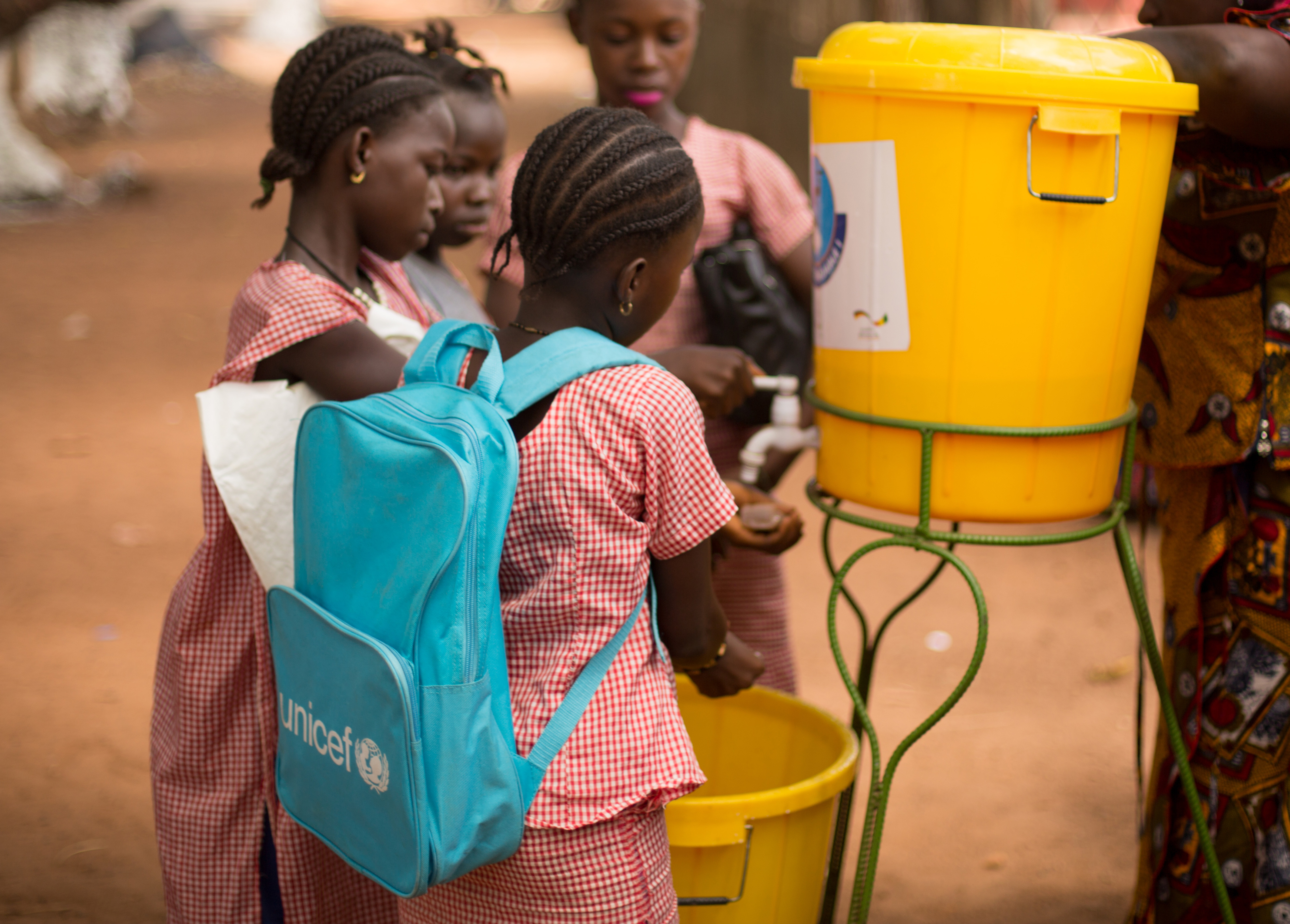 A local water point means making it to school on time
Many communities far from a water source struggle to keep children in school. Students have to travel long distances to fetch water before they can start the day—or they're forced to stay home with stomach issues caused by unsafe water.
In 2017, the rural village of Sogbadou received a water point through Water for Guinea. Now, says a village member, "all the children are going to school on time."
Meet our lead program partner, Andy Astrachan
On his 50th birthday, Andy Astrachan woke up inspired. He dreamt of digging wells in Africa. Five months later, he traveled to Zambia and did just that. Then, in 2013, he teamed up with UNICEF to scale up the work in the rural communities of Guinea. This video clip from a panel he hosted at UNICEF's Annual Summit says it all.