 UNICEF NextGen Bay Area
Bay Area Steering Committee
NextGen Boards are comprised of 15-20 diverse and exceptional leaders who drive engagement, advocacy and fundraising in their regions. Board members are passionate about children's rights and firmly believe in and work towards UNICEF's mission. Board members commit to raising and giving critical funds, resources and thought leadership to UNICEF, as they understand that this is the most impactful and effective way to support children globally. Leaders lend their time, voices and voting power to understand and promote child rights on a local and global level. Board members will also create peer engagement opportunities and cultivate strong, lasting partnerships for UNICEF. NextGen leaders relentlessly pursue a more equitable world @foreverychild. Please find the board commitments and application here for your consideration.

K Chandler Rosemont, Chair
Chandler is an experienced pediatric ICU nurse, public health nurse, and global health advocate. Her mission is to create sustainable healthcare access for pediatric patients in rural healthcare settings all over the world. Chandler's passion for public health stems from her experience creating community healthcare education modules and videos for non-profit organizations and serving as a global nurse on medical missions in Kenya, India, and Costa Rica.
After witnessing first-hand the health disparities experienced by pediatric patients in her nursing and global health work, Chandler was drawn to UNICEF Next Generation to continue advocating for change and building awareness on global issues affecting children.
Chandler currently works as a pediatric nurse in San Francisco. She received her Bachelor of Science in Nursing from the University of San Francisco and graduated from Dartmouth with a Masters in Public Health.

Ashley Rhame, Vice Chair
Ashley is passionate about empowering and protecting children, which is what led her to UNICEF Next Generation Bay Area, where she serves as a Steering Committee member. Ashley is also passionate about her business, people and making an impact. A few years ago she started an unconventional Real Estate company that focuses on buying distressed properties all over California and creating beautiful, sustainable and affordable homes for amazing families. In 2020, she was recognized for being a 40 under 40 Real Producer in the Real Estate industry. Ashley holds a Bachelor's Degree in Business from Pepperdine University. Before starting her Real Estate business, Ashley worked in Marketing for Paramount Pictures and then was a jack of all trades in the Wealth Management space for HoyleCohen LLC, a national firm. During her time at HoyleCohen, she was recognized as a 30 under 30 recipient by her Alma Mater, for helping the firm increase their assets under management by over $100,000,000 through her digital marketing efforts in business development and creating a firm-wide giving back program that is still used to this day. Ashley is also one of the founders of The Emerging Leaders Council for The Make-A-Wish Foundation in San Diego, is a long time mentor and board president for the academy of business at Clairemont High School and has made it her mission to empower the underprivileged youth community both at the grassroots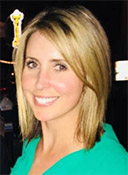 Anne Scott
Anne was drawn to UNICEF Next Generation because of its global focus on issues affecting children. Born and raised in the Bay Area, the Steering Committee provides an opportunity for Anne to deepen her commitment to UNICEF's international mission through fundraising and advocacy in her favorite city, San Francisco. Anne received her bachelor's degree from Boston College in 2007 and graduated from the University of California, Hastings College of the Law in 2011. She currently works as an attorney at the Supreme Court of California.
Clyde Shavers
Clyde Shavers is a graduate of Yale Law School and the U.S. Naval Academy. He served as the Washington State Democratic Party Voter Protection Director during the 2020 presidential election. Prior to law school, he commissioned into the nuclear submarine community and later transitioned as a public affairs officer in 2015. His operational tours include U.S. Naval Forces Central Command/U.S. 5th Fleet in Bahrain and Destroyer Squadron SEVEN in Singapore. Clyde is the founder of Yale Coalition to End Homelessness, a student organization that serves to develop strategic solutions with innovative organizations in addressing core challenges to New Haven's homelessness.